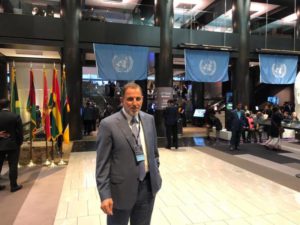 A UOSSM medical mission team led by Dr. Monzer Yazji, co-founder of UOSSM and UOSSM USA, is headed to Ukraine from the US for a to assess the situation and provide emergency relief.
According to OCHA, the war in Ukraine has led to mass displacement with over 2 million refugees fleeing the country since February 24, 2022. In the past two weeks, there have been at least 1,207 civilian casualties, including 406 killed. The actual number of civilian casualties is likely to be much higher as civilian deaths and injuries continue to be verified.
UOSSM hopes to provide medical relief to civilians affected by the war. If you would like to donate to support our work please click here.
Dr. Yazji said, "I have been watching the crisis of Ukraine from day one. History is repeating itself as I am seeing similar attacks and suffering that our people went through. I couldn't sit back and watch the suffering of the Ukranian people when we have learned so much from our work in Syria. I felt the duty to share our experience and help alleviate the suffering of the Ukrainian people. This is why we are starting our medical mission in Ukraine. This is our vision, mission and promise, to help everyone suffering in the world."