Washington DC- UOSSM responded to the forced displacement of the first two groups of people from Ghouta. On Thursday, 450 families, roughly 2000 people, were displaced from Harasta, Ghouta. The second group of over 3000 people were transported earlier this morning. The people were transported from Harasta to Qalaat Al Madeeq in the suburbs of Hama. UOSSM provided child protection services, primary health care services, and ambulances to transport severe cases to area hospitals. UOSSM was one of several organizations aiding in the process.
Many of those that came, including numerous children, were in poor medical condition (intestinal infections, hepatitis, skin disease, trauma injuries), having received very little medical attention over the past five years. They were, hungry, thirsty, and mentally and physically exhausted from the fierce bombardment they were subject to for over a month, and the siege for over five years. Many have not had clean drinking water or a meal for days.
On Thursday, at least 10 patients were in urgent need of medical care. The second group from this morning had at least 300 wounded and ill that needed medical care. 46 were transported via ambulance. Approximately 8000 people will be displaced from Harasta in upcoming days.
Dr. Ahmad Dbais, Safety and Security Director of UOSSM said, "These people have been through so much. They have lived through the worst conditions imaginable for over five years. What we did today is what we do every day. We were one of many organizations who were doing their obligation and duty to the people. We provide care to those who need it most."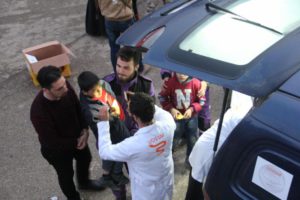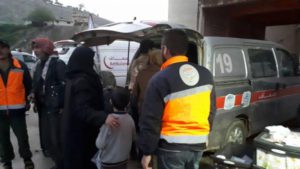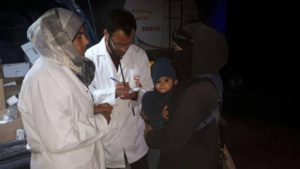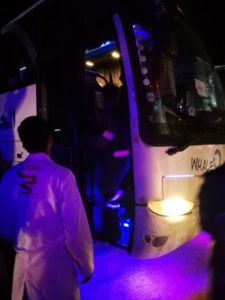 Since February 18, the bombardment on Ghouta, described as "hell on earth", has killed 1600 civilians and left over 5000 wounded from the relentless airstrikes.
On March 22, 37 people were burned alive in an incendiary bomb attack on a shelter filled with women and children.
Dr. Ghanem Tayara Chairman of UOSSM International said, "The forced displacement in Eastern Ghouta will create a humanitarian catastrophe. Sadly, their options are limited; stay and be bombed, gassed and burnt or leave without any guarantee of safety."
Dr. Tayara added, "The logistics and funding needed to evacuate hundreds of thousands of people are not there. How will their safety be guaranteed? These people need safe passage monitored by the UN, food stocks, immediate medical treatment and adequate shelter. We urge governments / NGOs to immediately release emergency funding and resources to ensure their needs are met. We ask all actors in the conflict to respect UNSCR 2401 and begin an immediate ceasefire. Thousands of lives are at stake."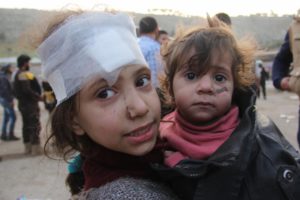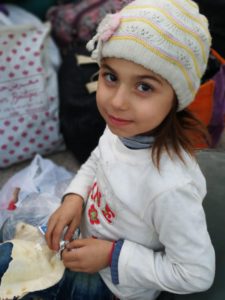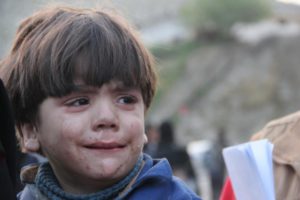 UOSSM Requests:
Governments and NGOs IMMEDIATELY release emergency funding for the Eastern Ghouta evacuation response. Specifically; to ensure those displaced receive adequate medical attention, food, safe transport and shelter.
The displaced civilians receive guarantees of safe passage monitored by the UN and within the guidelines of the ICRC:
Evacuees are informed in advance on the terms of the agreement, destination site, and evacuation process.
Civilians can choose to stay or leave.
Civilians are protected against attack in all circumstances, staying or leaving.
Civilians being evacuated are granted safe passage.
All measures are undertaken to safeguard family unity.
Civilians, detainees and persons no longer directly participating in hostilities must be treated humanely and in accordance with international law, regardless of their status and religious, ethnic or political affiliation.
Evacuees are not deprived of objects needed for their survival, nor impeded of their access to humanitarian aid and services, during and after the displacement.
Evacuees are allowed to take and retain personal belongings in reasonable amounts that do not hamper the evacuation operation, notably valuables and property titles, ID-documents, electricity and water bills.
Persons with special needs and vulnerabilities, such as the wounded and sick, unaccompanied and separated minors, the elderly and persons with disability, are afforded special protection and are cared for.
At the destination site, displaced civilians benefit from freedom of movement, access to satisfactory conditions of shelter, hygiene, health, safety, nutrition, public and protection services, and livelihood opportunities.
Humanitarian actors are granted access to the destination sites and are allowed to follow up on evacuees, to assess their needs after displacement and to deliver humanitarian aid and services.
Evacuations should be temporary and displaced people have the right to return as soon as the reason for their displacement ceases to exist. They are provided with clear information on the prospect of return.
The inviolability of personal property is guaranteed. The property and possessions left behind by evacuees are protected against pillage, destruction and illegal appropriation or use.