Geneva, Switzerland – The following report details the work of UOSSM in providing eastern Ghouta IDPs with: primary health care, ambulance services, nutrition, mental health and psychosocial support, in addition to data collection. UOSSM is amongst a coalition of Syrian NGO's serving the needs of the people of eastern Ghouta.
In the strongest terms, UOSSM calls for a cessation of the violence in Ghouta that has left over 1,500 civilians dead. We denounce the relentless violence which has caused untold suffering for hundreds of thousands of civilians. We reiterate our calls for IDPs to be treated with dignity and have their safety assured by the United Nations, and for the necessary provisions to be made to ensure all their humanitarian needs are met. UOSSM calls for the increased protection of: children, the wounded, the sick, unaccompanied minors, the elderly and the disabled. UOSSM also recognizes the tremendous work and sacrifices of aid workers inside Ghouta, many of whom have become displaced.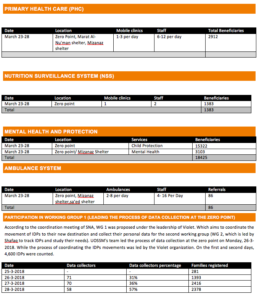 UOSSM Requests:
1)   Governments and NGOs IMMEDIATELY release emergency funding for the Eastern Ghouta evacuation response. Specifically; to ensure those displaced receive adequate medical attention, food, safe transport and shelter.
2)   The displaced civilians receive guarantees of safe passage monitored by the UN and within the guidelines of the ICRC:
Evacuees are informed in advance on the terms of the agreement, destination site, and evacuation process.
Civilians can choose to stay or leave.
Civilians are protected against attack in all circumstances, staying or leaving.
Civilians being evacuated are granted safe passage.
All measures are undertaken to safeguard family unity.
Civilians, detainees and persons no longer directly participating in hostilities must be treated humanely and in accordance with international law, regardless of their status and religious, ethnic or political affiliation.
Evacuees are not deprived of objects needed for their survival, nor impeded of their access to humanitarian aid and services, during and after the displacement.
Evacuees are allowed to take and retain personal belongings in reasonable amounts that do not hamper the evacuation operation, notably valuables and property titles, ID-documents, electricity and water bills.
Persons with special needs and vulnerabilities, such as the wounded and sick, unaccompanied and separated minors, the elderly and persons with disability, are afforded special protection and are cared for.
At the destination site, displaced civilians benefit from freedom of movement, access to satisfactory conditions of shelter, hygiene, health, safety, nutrition, public and protection services, and livelihood opportunities.
Humanitarian actors are granted access to the destination sites and are allowed to follow up on evacuees, to assess their needs after displacement and to deliver humanitarian aid and services.
Evacuations should be temporary and displaced people have the right to return as soon as the reason for their displacement ceases to exist. They are provided with clear information on the prospect of return.
The inviolability of personal property is guaranteed. The property and possessions left behind by evacuees are protected against pillage, destruction and illegal appropriation or use.