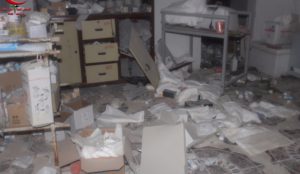 A barrage of airstrikes on hospitals and medical facilities in Douma and Daraa have left a physician dead and medical staff member wounded. Dr. Mohammad Taha Al Lamadani, a forensic physician in Eastern Douma, Damascus suburb, was killed on Thursday in an airstrike that targeted the Nuwa Medical Center with cluster bombs and precision guided missiles.
A UOSSM rehab center in Daraa, Dar Al Istishfa al Karameh, was also hit on Thursday with explosive barrels. One woman was confirmed dead and the relative of a staff member was wounded. The airstrikes destroyed the vaccination center and damaged two anesthesia machines and one echocardiograph machine. The solar panels that provide power to the facility were also destroyed.
Hamza al Rashdan, an emergency staff member at the Al Shuhada Hospital inDaraa, was also wounded when the facility was hit by mortar shells and explosive barrels. Al Shuhada hospital has been targeted numerous times by airstrikes, including this past October.
"As we have repeatedly stated, the continuous targeting of hospitals and medical staff constitutes a violation of international law," said the CEO of UOSSM USA, Dr. Khaula Sawah. "We mourn the deaths of the Dr. Al Lamadani and Hamza Al Rashdan and all innocent civilians killed in these indiscriminate attacks. We continue to appeal to the international community to take tangible steps to protect hospitals, medical workers and civilians in Syria."