June 2020 Activities and Updates from UOSSM USA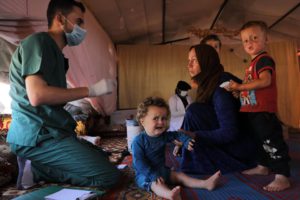 UOSSM USA Participates in World Refugee Day Awareness
On June 19, UOSSM USA participated in World Refugee Day by shedding light on the continuous suffering refugees face every day. After 10 years, they continue to suffer. There are over 5 million Syrian refugees, many living in dire conditions.
Please click here to watch this video about a little boy named Omar, a Syrian refugee who has suffered so much from the brutal war.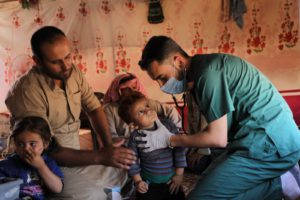 UOSSM Continues COVID-19 Emergency Response in Syria
UOSSM continues its emergency response to the COVID-19 pandemic with the following measures:
Supporting 5 primary health care centers (PHC's)
Establishing and operating 4 community-based isolation centers (CBICs).
Sterilization of 3 camps (Al-Furqan camp, Al-Wafa camp and Khatin camp)
Distribution of over 3000 hygiene kits containing personal care items
Distribution of over 10,000 nutrition and food baskets
Establishing a distance-learning center in Afrin
Distributing educational awareness brochures about COVID-19 in areas of displacement.
In addition, UOSSM launched an awareness campaign providing training to medical and administrative personnel.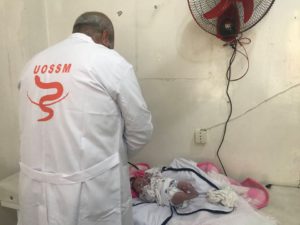 UOSSM Areeha Primary Health Care Center Reopens
The UOSSM Areeha Primary Health Care Center reopened in June to provide primary health care services in northern Syria. Five babies were delivered on the first day of reopening the center.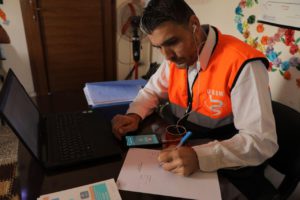 UOSSM Mental Health and UOSSM Physiotherapy Centers in Turkey Resume Services
All UOSSM Mental Health Care and Physiotherapy Centers in Turkey resumed services in June after temporarily suspending services due to COVID-19. Tele-health services were being provided during that time. The centers welcomed existing and new patients while adhering to all guidelines to protect patients and staff against COVID-19.
Please click here to watch protective measures in UOSSM medical facilities to protect staff and patients from COVID-19.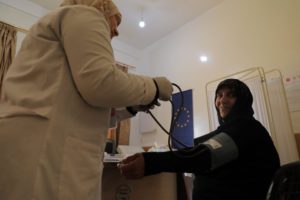 Impact Story- How UOSSM Helped Om Ahmad
Om Ahmad fled from Kafr Nobl to Quorqonia after someone she loved died.This caused her a lot of trauma. She started to feel tired and sick because her blood pressure was so high, and she wasn't able to get her medications. Om Ahmad visited UOSSM's Quorqonia Primary Health Care Center, where she was examined. The doctor who examined her placed Om Ahmad on a six-month treatment plan, where she will visit the center once a month. She received a special card for patients with chronic diseases which provides a visit with the doctor, testing, and all medications, free of charge. Despite her suffering, Om Ahmad is happy because she is able to get her medicines on a monthly basis. She also has a sense of security because she can visit the center anytime she is feeling ill or tired. We are praying for Om Ahmad to remain in good health. Together, we are saving lives and building hope.
Since 2012, UOSSM has been providing emergency medical relief and healthcare services to the Syrian people affected by the crisis, working primarily inside Syria and with Syrian refugees in Turkey.
In 2018:
UOSSM provided almost 2.5 million medical services
UOSSM supported 14 primary health care centers and 13 mobile clinics
UOSSM provided over 162,000 beneficiaries with nutrition services focused on
women and children
UOSSM Mental Health and Psychosocial Support Services provided care to 110,096  beneficiaries
UOSSM Bab Al Hawa Hospital provided health care services to over 1 million patients since establishment through the end of 2019