July 2020 Activities and Updates from UOSSM USA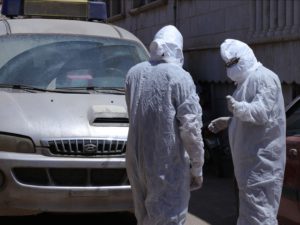 First Confirmed COVID-19 Case in Northern Syria
On July 9, the Idlib Health Directorate announced the first confirmed COVID-19 case in Northern Syria. The Health Directorate provided updates and information on prevention methods to provide protection against the corona-virus.
Please click here to watch how UOSSM is responding.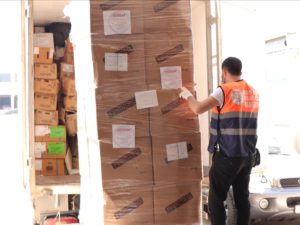 UOSSM Distributes Over 50,000 N95 Masks to Medical Staff in Northern Syria; Continues with COVID-19 Response
UOSSM distributed over 50,000 N95 masks to more than 29 hospitals and health care centers in response to COVID-19 in northern Syria. UOSSM continues to implement an emergency plan in response to the COVID-19 pandemic with the following measures:
Supporting primary health care centers (PHC's)
Establishing and operating community-based isolation centers (CBICs)
Sterilization of displacement camps
Distribution of hygiene kits containing sanitizing and personal care items
Distribution of nutrition and food baskets
Establishing a distance-learning center in Afrin
Distributing educational awareness brochures about COVID-19 in areas of displacement.
In addition, UOSSM continues to provide awareness and training on COVID-19 to medical and administrative personnel.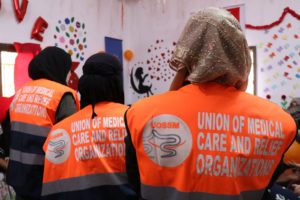 First UOSSM Parenting Skills Class Graduates
On July 8, the first class graduated from UOSSM's Parenting Skills Course, which is part of UOSSM's Protection Program. The course aims to provide families with parenting skills for children, and to teach parents how to cope with children's issues in an understanding and compassionate way, using positive reinforcement. The course also aims to teach parents about childhood brain development, and how parents can teach children to cope with mental stress. UOSSM's Protection Program provides services in Dayr Hesan and surrounding displacement camps.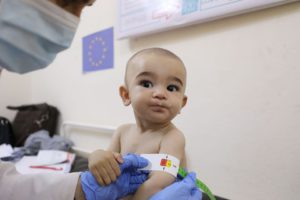 Impact Story- Emad Recovers From Severe Malnutrition
8 month old Emad suffers from malnutrition. He has been living on only synthetic milk since he was born. His family took him to the UOSSM Nutrition Clinic in Maarat Masreen for nutrition care services. He weighed 12.5 pounds and had a circumference of 105 mm on the MUAC (Mid-Upper Arm Circumference) Band, categorized as severely malnourished. After his second visit, he gained a little over one pound at 13.67 pounds and his MUAC measurement went to 114. UOSSM will continue to care for the baby until he is completely better and at a healthy weight. The center provides free nutrition services to those who need it.
Because of your caring support Emad and children like him will receive the nutrition services and other medical services that are desperately needed. Together, we are saving lives and building hope.
Since 2012, UOSSM has been providing emergency medical relief and healthcare services to the Syrian people affected by the crisis, working primarily inside Syria and with Syrian refugees in Turkey.
In 2018:
UOSSM provided almost 2.5 million medical services
UOSSM supported 14 primary health care centers and 13 mobile clinics
UOSSM provided over 162,000 beneficiaries with nutrition services focused on
women and children
UOSSM Mental Health and Psychosocial Support Services provided care to 110,096  beneficiaries
UOSSM Bab Al Hawa Hospital provided health care services to over 1 million patients since establishment through the end of 2019