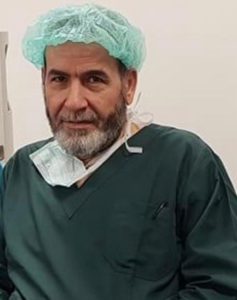 On September 9, 2020, the area of northern Syria lost its first doctor to COVID-19. Dr. Adnan Jasem was working in Al Bab Hospital where he contracted the virus. Dr. Jasem, 58, was on a ventilator, as he lost his battle with the coronavirus.
Dr. Jasem saved countless lives, risking his life in service of others, survived a bombing in his home and was forcibly displaced several times.
The coronavirus made its way late into northwest Syria. As of September 10, there are a total of 170 confirmed cases of COVID-19 and three deaths, eight of which are healthcare workers. UOSSM has been working tirelessly on the ground to stop the spread of the coronavirus.
Dr. Khaula Sawah, President of UOSSM USA said, "We are deeply saddened by the tragic death of Dr. Jasem, he risked his life ever day trying to save others. He survived bombings and displacement but unfortunately was unable to survive the deadly coronavirus. We would like to extend our thoughts, prayers and deepest condolences to Dr. Jasem's family. What a loss to the region."