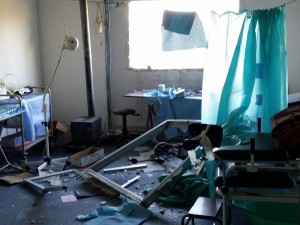 A UOSSM supported maternity hospital on the Idleb-­­Latakia province border was      hit by four missiles on Tuesday at 3:45 pm Damascus time. Three hit around theBernas Hospital, with one severely damaging the maternity wing and a next-­­door vocational training institute. Other areas of the hospital also sustained minor damages. One midwife is severely wounded and in critical condition. Three staff members and three patients sustained moderate injuries as well. The group Medecins Sans Frontieres-­­Belgium (MSF) was a previous sponsor of the Bernas Hospital and handed over the hospital to UOSSM this past year.                                         "The Bernas hospital is a busy maternity hospital that has provided care to over 25,000 female patients and averages 145 deliveries per month," said Dr. Ahmad Dbeis, UOSSM's Northern Region Hospital and Trauma Director. "There is concern the hospital could become a repeated target for airstrikes, therefore the hospital was evacuated for patient and staff safety," Dbeis said.
This latest attack comes in the wake of a string of unrelenting aerial attacks on medical facilities, including one on the Radwan Jasem Hospital in Daraa that occurred yesterday. One woman was killed and one child severely injured. The hospital was also subsequently shut down.
"We continue to demand an end to the targeting of hospitals and civilian areas in Syria,"said UOSSM USA CEO, Dr. Khaula Sawah. "The health-­­care system of Syria is decimated and this latest aerial attack of a hospital which provides much-­­needed maternity care to thousands of patients is another flagrant violation of international humanitarian law. These indiscriminate airstrikes kill and wound civilians and severely hinder and prohibit the ability to provide crucial medical care," said Sawah.